Some of the links in this article contain affiliate codes. This means that I will earn money at no cost to you if you choose to purchase something. The products mentioned are items I actually own and purchased with my own money.
At ProTrainings, we've always had a remote-friendly culture. We waited nearly five years before renting our first office space. As a tech company, we can work from anywhere, and we've taken full advantage of that!

When the pandemic hit in 2020 and we pivoted back to work-from-home, I began making incremental upgrades to my home office setup. Here's the current iteration.

Let's break down the equipment I'm using:
The 4-monitor setup is powered by a 2010 classic Mac Pro tower I bought off eBay for under $1000. It's a 12-core 3.46 GHz Intel Xeon with 48GB RAM, an RX 580 GPU, 2 TB SSD, and 600 GB 7200RPM HDD. It runs exceptionally well and is my primary machine at home.
The center screen is a 28″ 4K Samsung and the other three are standard 27″ displays.
The three floating monitors are mounted using these brackets, which can support up to two monitors on a single bracket.
My keyboard is a Keychron K3. It can be wired or bluetooth, it includes keys for Mac or Windows, the keys glow in configurable patterns, and it makes a very satisfying clicking noise when you type. I love this keyboard!
I use an Apple Magic Trackpad 2. This was upgraded from the first generation, which I used for a couple of years before purchasing the second generation. I was happy with the first generation trackpad and wasn't sure I needed the new one, but I'm glad I upgraded. The new version is more precise, more responsive to clicks, and significantly wider.
My keyboard and mouse are sitting on a dark blue desk mat I purchased on Amazon. It has a grippy and water resistant surface, plus I think it just looks nice.
For graphics work, I also use a Wacom Intuos tablet. My editing suite of choice these days is Affinity by Serif.
You will notice a webcam mounted atop the Samsung monitor in the center. This is a Logitech Brio 4K webcam. I previously used a 1080p HD Logitech webcam, but my old webcam suffered from auto-focus issues and I abandoned it. Logitech has fixed the problem with the Brio and the picture quality is much better for Zoom calls. I also own an Elgato Cam Link for connecting a DSLR to my Mac for use as a webcam, but most of the time I'm fine with the Brio.
The microphone is an Audio Technica ATR2100 USB (with stand) and an inexpensive foam cover. This is a cardioid mic, which means it reduces unwanted sounds from the sides and rear. It works well for Zoom calls.
My chair is a Steelcase Think chair that I was able to pick up from the Steelcase outlet here in Grand Rapids through a friend who works at Steelcase. I got this chair a couple of years before the pandemic. I'm thankful I was able to get it at such a massive discount. I've used it more than I ever expected!
My M1 Macbook Pro is sitting on an impressively collapsible and portable stand made by Roost. This stand positions the laptop at an ergonomically correct height and can be easily stowed in a backpack.
It's hard to see, but behind the laptop is a desk lamp with a long, adjustable neck and a wireless charging area on the base.
Another notable fixture in my office, although not pictured, is my Fujitsu Scansnap. It's a sheetfed scanner that rapidly scans the front and back of a stack of documents, saves them to PDF, and automatically performs OCR (optical character recognition, or image to text). This scanner has been wonderful for receipts, tax documents, contracts, and more.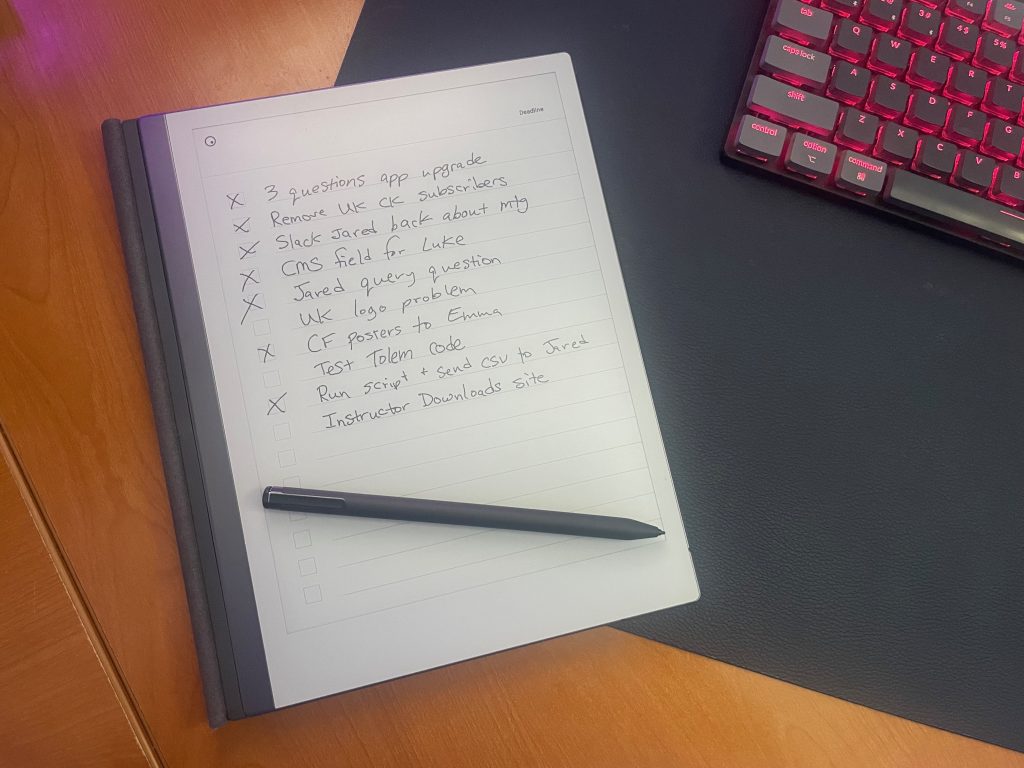 One more device I have to mention is the Remarkable 2 tablet. I seriously can't recommend this device enough. I saw an ad for the Remarkable 2 on Facebook and I was sold. It's an e-paper tablet with a stylus that's meant for taking notes. I have an iPad Pro, and while it's a great device, I don't like taking notes on the slippery glass screen. The Remarkable's screen has just the right amount of resistance to make it feel like paper. I find myself using my Remarkable as a scratch pad while I'm writing code, as my daily to-do list, for taking notes during Zoom calls, for in-person meetings and events, for drawing diagrams and wireframes. The notes sync to the cloud, so I can access them from anywhere, even when I don't have my tablet on me. I seriously use this device multiple times a day. Be sure to use my referral link for $40 off when you order one.
I'll keep adding to this blog post as I upgrade my setup. I may also write a follow-up post covering the other side of the room, with my gaming PC, TV, and VR headsets :).
Amazon and the Amazon logo are trademarks of Amazon.com, Inc, or its affiliates.